Tag: whimsical wedding invites
Your love is as sweet as these delicate butterflies! Perfect for a spring wedding.
[button href="http://www.shareasale.com/r.cfm?u=1107867&b=82482&m=12808&afftrack=&urllink=www%2Eshareasale%2Ecom%2Fr%2Ecfm%3Fu%3D1107867%26b%3D82482%26m%3D12808%26afftrack%3D%26urllink%3Dwww%252Eweddingpaperdivas%252Ecom%252Fproduct%252F14291%252Fsignature%255Fwhite%255Fwedding%255Finvitations%255Ftimeless%255Frings%252Ehtml%2523color%252F02%252Fpid%252F14291″ target="_blank" style="btn-primary"]Check It Out![/button]
The colors on this one are absolutely gorgeous!
[button href="http://www.shareasale.com/r.cfm?u=1107867&b=82482&m=12808&afftrack=&urllink=www%2Eweddingpaperdivas%2Ecom%2Fproduct%2F14291%2Fsignature%5Fwhite%5Fwedding%5Finvitations%5Ftimeless%5Frings%2Ehtml%23color%2F02%2Fpid%2F14291″ target="_blank" style="btn-primary"]Check It Out![/button]
Whimsical wedding themes are perfect for couples who don't take themselves too seriously. These weddings tend to be more casual and are more about having a blast and celebrating your love than they are about being fancy. Whimsical weddings are probably the most fun to plan because of just that…they're fun events and they aren't stuffy.
Whimsical Wedding Theme
Don't be afraid to be playful or cheeky with your decor!
Whimsical Venues
A public park; an English style garden; a bed & breakfast. Quirky locations work best.
Whimsical Wedding Colors
Bright colors work great for whimsical wedding themes. Orange & aqua, aqua & coral, yellow & light blue all work. As long as they complement each other, try mixing your favorite color and his favorite color!
Whimsical Wedding Food Style
Buffet style, catered.  If your venue allows it, try a DIY bar where you supply the liquor and mixers and everyone can make their own cocktails. (Never have a BYOB event!)
Whimsical Wedding Dress
Short, tea-length or long; A-line or fit and flare gown from bridal salon or dress from any upscale department store both work!
Whimsical Bridesmaid Dresses
Short dresses are appropriate in light fabrics such as cotton or jersey
Groom/Groomsmen
Linen suits in light colors. Have fun with tie colors.
Décor
Think a chalkboard sign for seating, an arch made of tree branches and flowers, and paper lanterns to let into the air at the end of the night.
Whimsical Wedding Stationery
The first piece of mail that your guests receive from you should give off the vibe for what type of wedding you're having.  Whimsical wedding theme stationery should be fun and informal.
Check out some of my favorite Whimsical Wedding Theme Save the Dates:
The mix of fonts on this magnet from WeddingPaperDivas is super cute!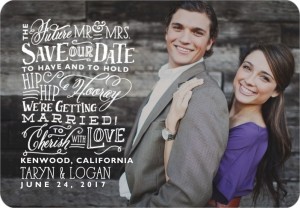 An infographic save the date of your love is a perfect option for a Whimsical Wedding Theme!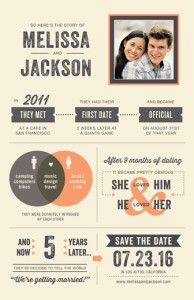 Fun and Straight to the Point Save the Dates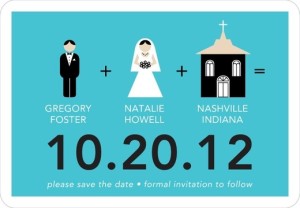 The colors on these invites are gorgeous!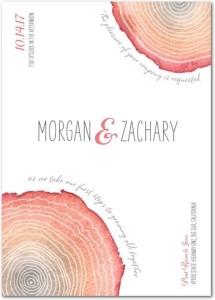 Some of my favorite Whimsical Wedding Invitations:
Love Bird Invitations from WeddingPaperDivas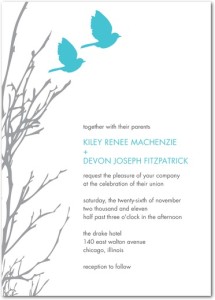 Perfect Summer Dandelions from WeddingPaperDivas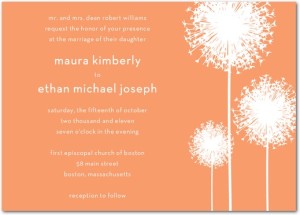 Whimsical wedding themes are so much fun.  Your guests will be thinking about what a great time they had for days to come!