YES, a part of the wedding planning process you'll actually enjoy! Bridesmaid dress shopping is so much fun. It's like trying on homecoming dresses, but this time you get to pick what your friend wears!
Bridesmaid Dress Shopping Tips
You'll need to shop for bridesmaid dresses a minimum of six months before the big day. It takes 3-4 months for dresses to come in after ordering, and you have to leave enough time for alterations. I actually recommend shopping at least 8 months in advance if possible so you can check it off of your to-do list and your bridesmaids who need some time to get the cash together are able to get the dress ordered in time.
Here's a list of bridesmaid dress shopping tips to keep everyone in the bridal party happy.
Scope the salon out. Don't just choose a salon on a whim, or you may be in for a rude surprise when dresses don't come in on time (or at all!). Check online reviews, visit in person to see how friendly the consultants are, and ALWAYS book an appointment in advance.
Respect everyone's body type. Every person in your bridal party is going to have a different shape, height and skin tone. That's why, if possible, you need to ask all of your bridesmaids to try on dresses. What looks great on one person may not on another.
Make sure it's comfortable. You don't want to be dealing with cranky bridesmaids on your wedding day because their circulation is being cut off. Likewise, you want them on the dance floor, right? They're not going to dance if they can't move. Ask them to sit down and move around in it and whether they think they'll be able to dance in it without an issue.
Pick something appropriate for the venue. If you're getting married in a church, you don't want to choose something too short or low cut. If you're getting married outside in the summer time, you don't want to choose a fabric that's heavy or a dress that's long. Choose a dress that goes with your wedding look.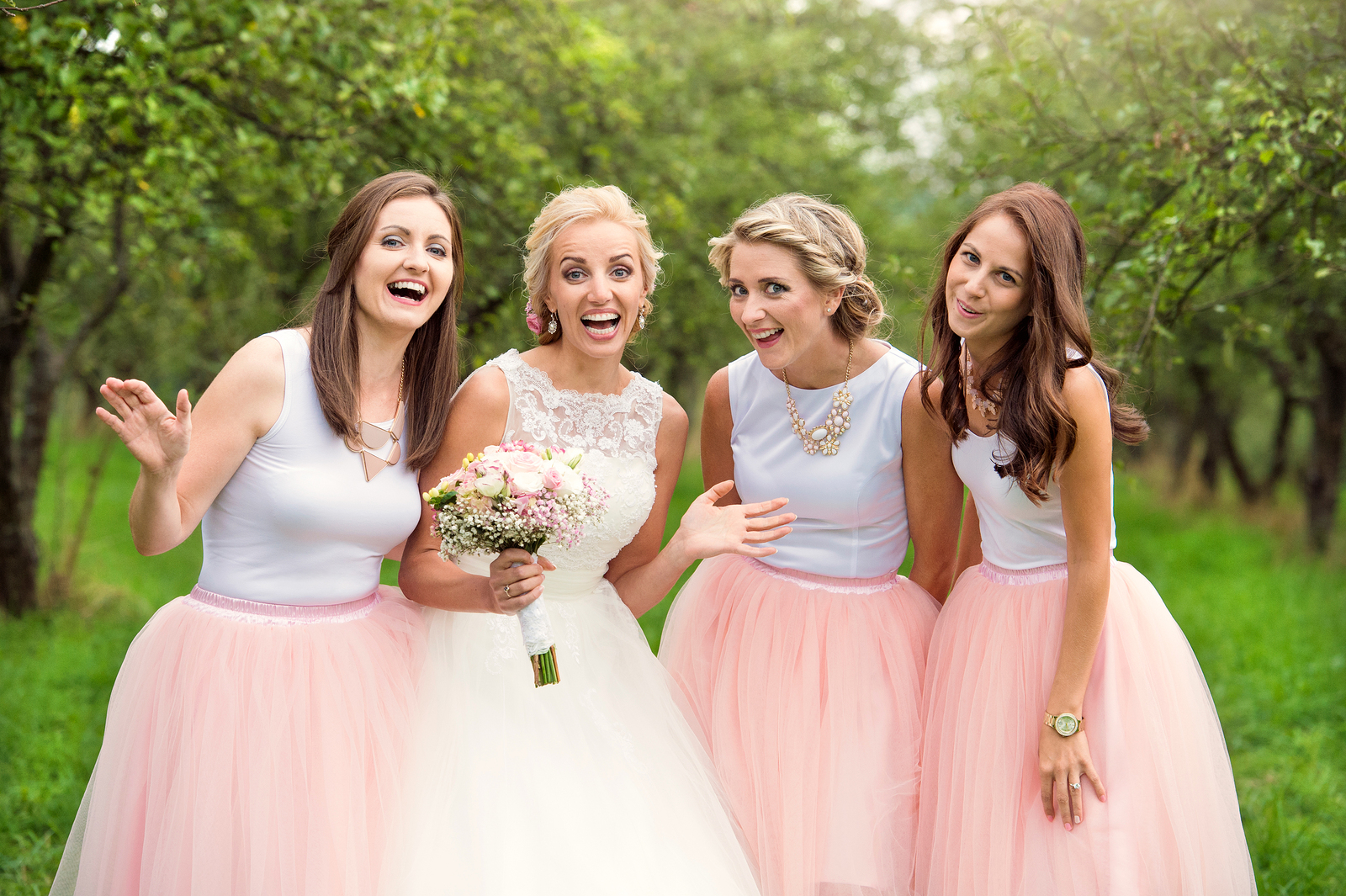 Avoid a hodge podge. If you don't want all of your bridesmaids to wear the same dress, that's your prerogative…just be sure to avoid everyone looking like a mess in the process. Try choosing different dresses in the same color from one designer. If you want different colors, stick to two and make sure that they complement each other. Choosing something too similar makes some of the dresses look new and others look old, and some colors just clash together.  No matter what, choose one length; mixing lengths makes the bridal party look a bit messy.
Ask your bridesmaids' opinion. You don't want to them to suffer in silence if they're totally uncomfortable with your choice. It's ultimately your decision, but if all your friends hate it, maybe try something else. If you have one bridesmaid who can't seem to be pleased, ask your Maid of Honor to step in and shut down any rude or distracting comments. You don't need to deal with sassy bridesmaids. They're supposed to be there to make your time easier!
Be mindful of price. Unless you want to pay for the bridesmaid dresses, you have to think about what your bridesmaids consider affordable and set a maximum budget. Be sure to verify that the salon you choose has tons of options in your price range. If you're totally in the dark about price, call a bridesmaids lunch and ask their opinions about it before you go shopping. After shopping, put your Maid of Honor in charge of making sure that all the bridesmaids order their dresses before the deadline.
Make a day of it and go out to lunch afterward. It'll be a great bonding experience for everyone, and it's a positive day in an otherwise stressful time.