Winter Wonderland Wedding Theme
There's something magical about snow, isn't there? Part of what makes a Winter Wonderland Wedding Theme so romantic is that it does have that 'magic' feel. Getting married in the wintertime has its advantages.  Sometimes the venue is less expensive because you're not in the typical "wedding season", which also means you won't be overlapping with your friends' weddings! Trust me, you won't have to compromise on the glamour at all.
Venue
A formal ballroom or a ski lodge are great options for winter weddings. For a more intimate feel, rent out a property with multiple luxury cabins. That way you can have the wedding, reception and sleeping quarters all in once place!
Wedding Dress
Go for a ball gown and a faux fur bolero and muff to keep warm without compromising style.
Bridesmaid Dresses
Long dresses in heavy fabrics such as silk, satin or even lace.
Groom/Groomsmen
Typical dark colored tuxedos are appropriate.
Winter Wonderland Color Ideas
Any shade of blue & silver; all ivory; dark purple or lilac & silver; deep red & gold; maroon & dark blue
Decor
Think faux tree branches spray painted frosty white, tall glass floral centerpieces with crystals hanging like chandeliers, and sheer white drapery hanging from the ceiling.
Food Style
Dependent on your venue you may have it catered or your venue may supply the food.  Try to do a plated meal as winter weddings have a formal feel.
Winter Wonderland Stationery
Your wedding stationery should give a feel for what type of wedding you're having. For a Winter Wonderland wedding theme, stationery should be timeless, elegant and chic.  Shimmer and shine add that little extra something that just says "wintertime."
Check out some of our favorite Winter Wonderland wedding theme Save the Dates: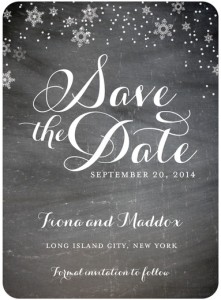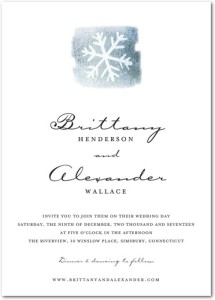 Winter Wonderland Theme Wedding Invitations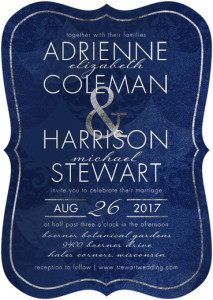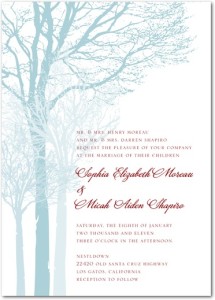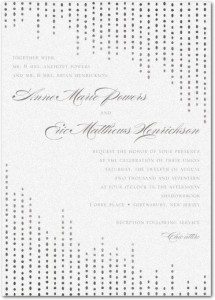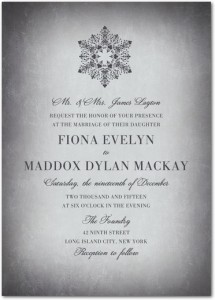 There's not much that's more romantic than snuggling up to kiss your significant other under snowfall. A Winter Wonderland wedding theme is an amazing way to showcase your love with a gorgeous backdrop and amazing photos. If you're thinking of having your wedding in the wintertime, don't hesitate; winter weddings are absolutely stunning.