The bachelorette party is the responsibility of your bridesmaids, but you and your Maid of Honor will most likely have to work closely together if your aim is to have your party become a vacation. I personally had a combined bachelor/bachelorette party in Las Vegas, and we had a lot of fun. You'll make memories you'll cherish for life, you'll get a mini vaca away from wedding planning, and it's a great way to bring your bridal party closer.
How to Throw An Out of Town Bachelorette Party
Here's a collection I put together of the best tips for throwing an out of town bachelorette party:
1. Plan way in advance.
People will most likely need to request time off work/arrange childcare/have other commitments, so you'll want to give as much notice as possible to ensure that everyone has the best chance of making it.
2. Set up an evite.
Private facebook groups can work, but not everyone has facebook or checks it regularly…and some people never check their facebook events at all. If you set up an evite, it will go straight to their email, and everyone can still discuss plans together and the information will be easily available for them to access.
3. Purchase all of the plane tickets at once.
This is where a reliable person in your bridal party comes in. They should be responsible for finding flights, giving everyone the details and price, and collecting payments by a designated date so that one person can buy all of the tickets. This will eliminate last minute no-shows, and if you purchase all of the tickets together, you'll all be able to sit together on the plane. You'll want to purchase tickets at least 3 months in advance to ensure there's enough empty seats to fit everyone. The person purchasing the tickets will need first and last names, birth dates, and addresses of all travelers. Check out the phone app SkyScanner to see all flights available going to your destination.
4. Designate a hotel where everyone will stay.
You can ask if the hotel will give a discount on a number of rooms if you have a large party. Even if they don't, I can't even tell you how much more convenient it is to all stay in the same hotel rather than all over the place. You will all have access to the same pool, and meeting up will be much easier. Remember to pick something central to the activities you'll be doing and not to pick anything too expensive (unless you're picking up the hotel tab.) List the hotel name, address, phone number and price in your evite so that everyone can book their own room. Expedia and Groupon are great places to find hotel deals.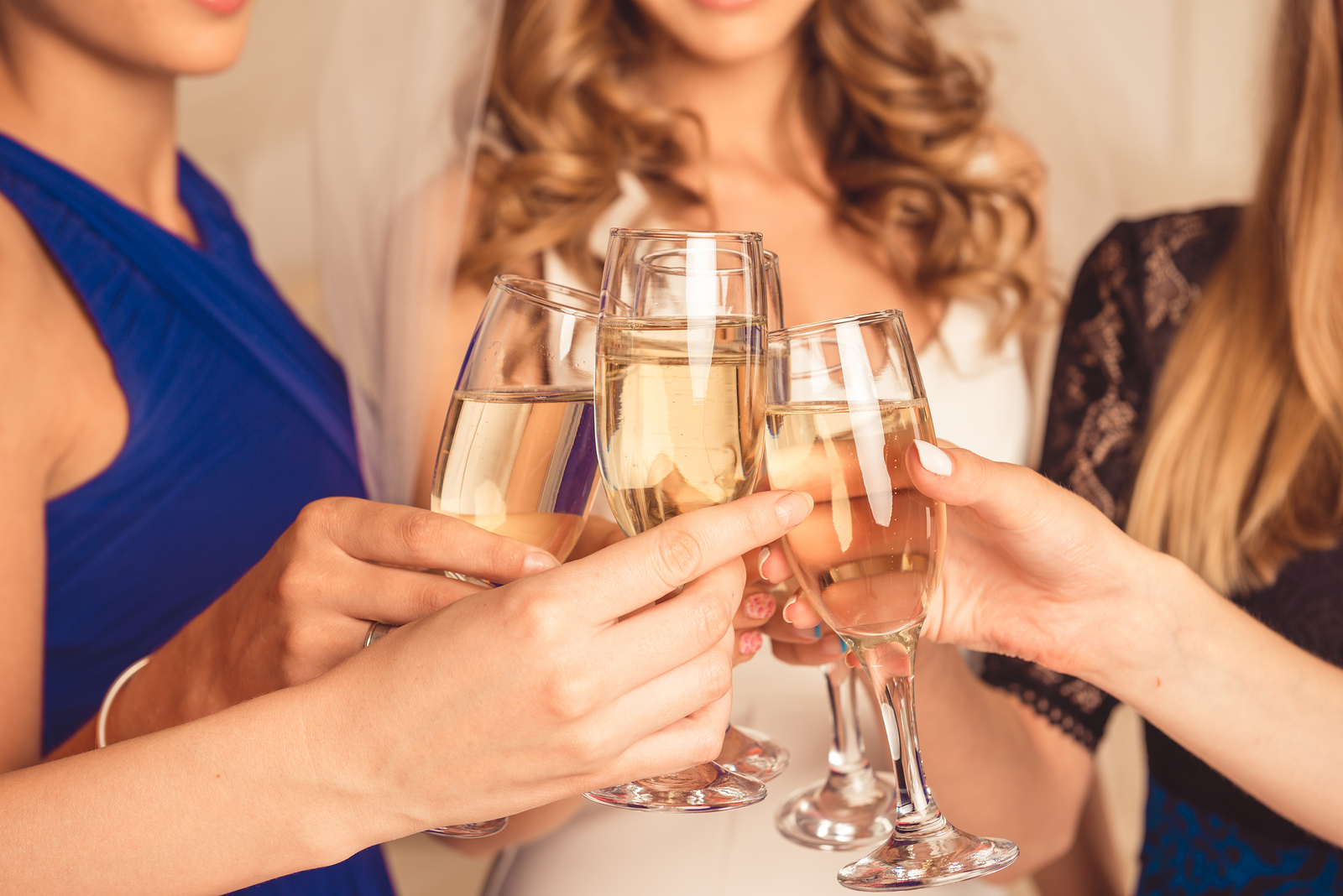 5. Make dinner reservations in advance.
Large parties are hard to get seated quickly, and then you might have people wanting to go to all different places and no one will agree, so it's easier to have the plan already made. Reservations in Vegas proved to be tricky. We had 12 people in our party and most restaurants wanted to charge us a minimum, so do some research before booking if you're headed to a touristy area.
6. Make it a joint party.
If you're doing a party out of town, I personally think it's way more fun to have all of your friends there to celebrate. Save one night that's just guys and just girls doing separate things so you still get the bachelor/bachelorette experience while having fun together the rest of the time. Drama will be much less likely to happen if it's not just girls 24/7.
7. Don't go too hard the first night.
We had a few people who got too drunk the first night, and they were sick all day the next day. When you're only gone for a weekend, that eats up a huge chunk of the vacation! Eat and drink plenty of water with your alcohol, and save the heavy drinking for the last night on the town so it doesn't ruin your trip.
8. Don't be offended if someone decides not to go.
Being a bridesmaid is not only a huge responsibility but it's also very expensive. Adding an out of town bachelorette party in the mix might be too much of a financial burden or stressor for some of your bridesmaids, so if they can't go, try not to get upset. It's their decision, so don't try to guilt them into coming.
9. Group texts are your friend.
Create a group text including everyone on the trip so that if you all do something separately, it's easy to keep everyone in the loop of when and where to meet for your next meal or activity.
10. Roll with the punches.
Traveling with a group means that you'll probably be irritated by something someone does at one point or another. Try to let it roll off your back and focus on the fun. You only get one bachelorette party, so enjoy it as much as you can.