Vintage Glam Wedding Theme

If you're thinking of having a vintage wedding theme, you are probably the type of person who loves a dramatic event…one with style, culture, and a sparkle of old Hollywood glamour. If you're into the type of parties that Gatsby would throw, this is the perfect wedding theme for you.
Vintage Glam Wedding Venue Types
The venue should be fit for Hollywood Royalty circa 1920. An historic theatre or library or an art gallery have culture and class and fit perfectly with a vintage wedding theme.
Vintage Glam Wedding Dress
Depending what type of vintage wedding you're having, you can go ball gown, or A-line (for vintage glam) or fitted Art Deco style full of beadwork (for a 20s feel.) Look for a gown with medium to no train as a long train doesn't go with these types of venues.
Bridesmaid Dresses
Long & sequined in blacks or metallics. Nothing beats a show-stopping art deco bridesmaid dress.
Groom / Groomsmen Tuxes
Black or royal blue… and this is the type of wedding where you can go for coattails! (Or even a top hat, if your fiance is into it!)
Vintage Glam Wedding Colors
Rose gold & blush; gold & white; black & gold. Are you sensing a pattern? Gold is the way to go for a vintage wedding theme.
Vintage Glam Decor
Think candelabra centerpieces, sparkling tablecloths and a vintage head piece. Special events in the first half of the 19th century were quite glamorous, so yours should be too.
Reception / Food Style
Passed hors d'oeuvres and a plated meal. (No buffet, as this type of wedding theme is too formal not to have a plated meal.)
Vintage Glam Stationery
The first piece of mail that your guests receive from you should give off the vibe for what type of wedding you're having.  Vintage wedding theme stationery can go one of two ways; you can go for simple, old school romance or you can go bold and artistic.
Our favorite Vintage Glam stationery: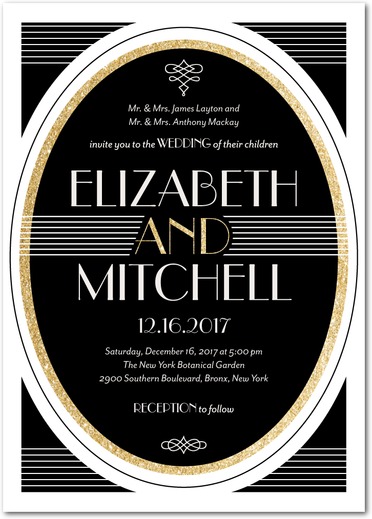 Vintage wedding themes are glamorous, fabulous and chic.  Old Hollywood glamour is in a class all its own. Vintage weddings will never go out of style, and it's easy to see why!